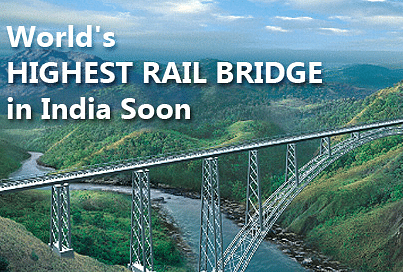 Now after the Tallest Statue in the world; Statue of Unity, being in India there comes the highest bridge in the World which is going to be built in Manipur, India by the North East Frontier Railway (NFR).
The candidates who are appearing for any competitive examination should be aware of this current affair.
Here are the details
According to a recent announcement made by the North East Frontier Railway (NFR), the world's highest bridge is being built in Manipur.
It was also announced to increase the speed of construction of this bridge. This bridge is being built on the river Iring of Manipur.
According to the information released by the Ministry, this bridge will be 141 meters high, which is higher than the 139-meter high bridge in Montenegro, Europe.
Till now the pillars have been prepared for this bridge.
Features of Manipur Railway Bridge
- Railway Ministry has started the work of rail project at Jiribam in Manipur with the cost of Rs 40 thousand crores. Its construction work is expected to be completed by 2020.
- This railway bridge is being constructed under the new Broad Gauge line which is being constructed between 111 km of Jiribam-Tupul-Imphal in Manipur.
- The total length of the new broad gauge line will be 703 meters. In addition, there will be total 45 tunnels in the bridge.

- Out of these 45 tunnels, 12 numbers will be the longest (10.80 kilometres) of the tunnel.
- It is being said that this will be the longest railway tunnel in the North-Eastern states.
- 'Slip Farm' technology has been adopted for long exposures for the bridge, while the steel girder is being made in the workshop, whose pieces are being added to the project site.

Benefits of the project
With the completion of the project, from Bihar to Kishanganj, it will be easy to reach the destinations of NJP to Manipur, Mizoram, Meghalaya, Sikkim and Nagaland.
Once the bridge is built, through these areas, the strategic approach through rail will facilitate access to the borders of Myanmar and Bangladesh, along with the important China border.