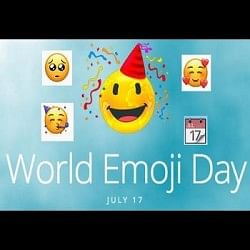 To express feelings nowadays, people use emoji more than writing and explaining themselves. Emoji gives a way to express feelings and emotions. People also use it for reactions or facial expressions. 
Today is "World Emoji Day". The day is observed on July 17 and is celebrated across the world. Do you know the emoji we use in our daily life, how they got started and how they came in the trend?

How World Emoji Day Formed?

The World Emoji Day was observed on July 17, 2014. The day was started by Jeremy Burge. He is an emoji historian, founder of Emojipedia and creator of World Emoji Day.
According to media reports, July 17 was chosen as the World Emoji Day due to the design of the calendar emoji on an iOS Phone showing this date. In 2016, Google changed the calendar to Unicode on its various products to celebrate July 17 as World Emoji Day.
The information given on EmojiPedia states that Apple, Google, Samsung and Joey pixels use the calendar's emoji. Apple first used this calendar emoji for its calendar app on July 17, 2002, which is also called iCal. 

How Emoji Came into Trends?
Emoji was started in the year 1990. Apple first included it in its iPhone keyboard. On the occasion of World Emoji Day, many companies issue their customised emoji. According to the Official Unicode Standard List, there are a total of 2,823 emoji. 
Emojipedia told Business Insider in early-2016 that it served "over 140 million page views" per year, and was profitable. According to the EmojiPedia, World Emoji Award will be released soon this year.