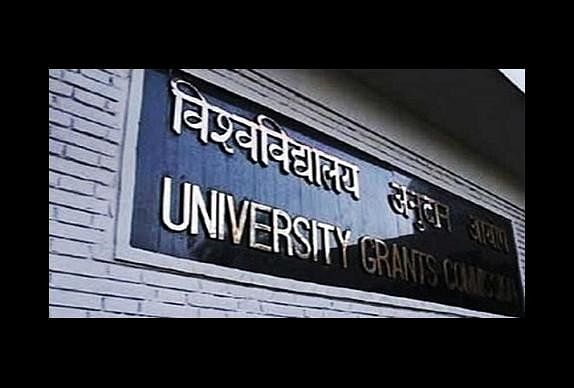 The HRD Ministry on Monday clarified that a final decision on transferring the power to sanction funds to higher educational institutes to itself, following the scrapping of the UGC, was yet to be taken.
The Human Resource Development (HRD) Ministry had last week announced its decision to replace the University Grants Commission (UGC) with the Higher Education Commission of India (HECI) by repealing the UGC Act, 1951.
According to a draft, which has been placed in the public domain by the ministry to seek feedback from the stakeholders, the new commission will solely focus on the academic matters and monetary grants would be under the purview of the ministry.
The decision has not gone down well with a section of academicians, who have questioned the move saying politicians should not be involved in academic matters.
"Apprehensions regarding the recommended shift of the grant-related functions to the ministry under the proposed HEI Act, 2018 are purely misplaced. No final decision has been taken to shift the grant-related functions to the ministry, even though the recommendation to separate the regulator and the grant-giving entity was made by several expert committees in the past and is rooted in the sound principles of governance," a HRD Ministry spokesperson said.
"The grant-giving process shall be purely merit-based and online -- an objective system that guarantees transparency and efficiency with the least human interface. We promise that if there is a successor to the current grant-giving system of the UGC, it will be operated in the most unbiased and impartial manner," he added.
According to the draft, less government and more governance, separation of the grant-related functions, end of the inspection raj, focus on academic quality, powers to enforce compliance with the academic quality standards and to order closure of sub-standard and bogus institutions are some of the highlights of the new Act -- the Higher Education Commission of India Act, 2018 (Repeal of the University Grants Commission Act).
The new Act is likely to be tabled in Parliament during the Monsoon Session, which begins on July 18.
The government was earlier mulling to have a single regulator for technical education, national council teachers training and UGC.
However, it has been decided to strengthen the higher education regulator as it was felt that the UGC remained preoccupied with disbursing funds to institutes and was unable to concentrate on other key areas such as mentoring the institutes, focussing on research to be undertaken etc.  
Related Articles

on Career Diary