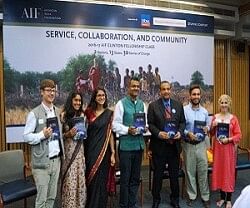 New Delhi
Developing leadership abilities through cultural immersion, young professionals from the US and India were felicitated for their work in development on Friday.

At seminar entitled service, collaboration, and community, the 30 fellows became life-long ambassadors for service to the marginalised and undeserved in India and all over the world.

Speaking on the occasion, AIF Country Director Nishant Pandey said, "I'm always delighted when a Class of Fellows completes their Fellowship journey in India. Since 2001, more than 422 AIF Clinton Fellowship alumni have become transformative leaders, representing a collective force and organized network dedicated to change in India and elsewhere."

About the programme
The William J Clinton Fellowship for Service in India helps shape the next generation of leaders committed to impactful change while also strengthening civil society to be more efficient and effective.

The Fellowship pairs a select number of highly skilled young professionals with leading NGOs and social enterprises in India in order to accelerate impact and create effective projects that are replicable, scalable, and sustainable.

The AIF Clinton Fellowship is an immersive, 10-month volunteer service program matching young professionals with development organizations. Fellows work on scalable and sustainable development projects in the fields of education, livelihoods, technology and innovation, and public health.