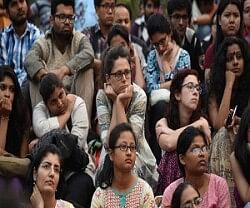 Irked over the failure of the government in issuing appointment orders for more than two years, the Nagaland Rashtriya Madhyamik Shiksha Abhiyan (RMSA) Phase 2 and 3 candidates today resumed their agitation outside the Directorate of School Education here demanding their appointment.


This is the second time that the RMSA Phase 2 and 3 candidates, who were selected through competitive exams but awaiting appointment launched agitation demanding their appointment, the protesters told newsmen.


The selected candidates while launching the indefinite stir on April 8 had pointed out that they had sat for examination in response to an advertisement for recruitment of over 900 secondary teachers under RMSA published on December 14, 2013.


The written exam was held on May 24, 2014 and result declared on June 27, 2014 while viva voce for the same was held in July 2015 and its result declared on November 30, 2015.


Thereafter, the Department issued appointment letters to over 600 selected candidates while 111 are yet to receive any appointment letters from the authorities, they said, according to a PTI report.


However, following a written assurance given by Minister for School Education and SCERT, Yitachu on April 12 that appointment orders would be issued by April 30, the candidates suspended their agitation.


Failing to receive their appointment till date, the candidates resumed agitation this morning outside Directorate of School Education.