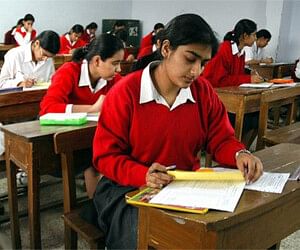 Children studying in 587 municipal schools in south Delhi will be given textbooks and bags for free as the area''s civic body has taken a decision in this regard for the next fiscal.
"South Delhi Municipal Corporation has decided to distribute free textbooks and school bags to children studying in our primary schools," the SDMC today said.
In a statement here, the civic body said its Mayor Shyam Sharma has "sanctioned an amount of Rs 3.8 crore for the purpose for financial year 2017-18".
"Around three lakh students in 587 primary schools will be distributed six types of textbooks, each for the subjects of Hindi, English, Mathematics, Social Science, Science and Drawing. An amount of Rs 2.53 crore will be required for this purpose," Sharma was quoted as saying in the statement.
Further, around 93,000 school bags in big and small sizes will be procured for children studying in class I, II and III, it said.
"An amount of Rs 1.26 crore has been sanctioned for the distribution of school bags for free. 53,000 school bags in big size and 43,000 in small size will be procured," he said adding, "the text books and school bags will be made available well in time."