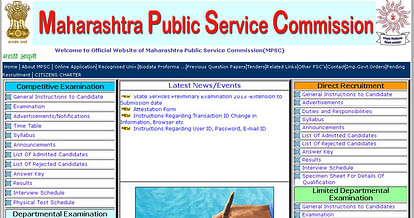 The Maharashtra Public Service Commission (MPSC) examinations scheduled for Sunday, would be held as per schedule, Chief Minister Prithviraj Chavan said here today.
The MPSC has informed that there was no problem in holding the exams as scheduled, Chavan informed the Legislative Council, after the Opposition raised the issue of the exams being jeopardised following "crash" of MPSC''s main server which wiped out all data of candidates.
Earlier, Minister of State for education Fauzia Khan informed the House that the exams will take place as scheduled.The Opposition members demanded a statement from the government on the issue and stalled the proceedings, leading to the House being adjourned twice for 15 minutes each.
Meanwhile, the MPSC came under fire from political parties over its "negligence" leading to loss of computerised data of over three lakh candidates who are to appear for the exams.
Shiv Sena and Maharashtra Navnirman Sena (MNS) workers staged a protest outside the MPSC office in south Mumbai.
MPSC chairman Sudhir Thakre announced in the evening that the exams would be held as per schedule.
For more information on this exam click on the
official website of MPSC.